Assortment of Diamonds
Diamond Assortment
Diamond Laser Inscription

After sourcing the diamonds, the next stage of the journey involves sorting the rough diamonds into a variety of categories.

This is done by rough diamond sorters who assess each diamond according to their natural characteristics - looking specifically at their color, clarity, carat and model or shape.

The sorting is done according to various criteria such as - size, color, clarity, morphology and suitability with a view to cleaving, sawing and cutting.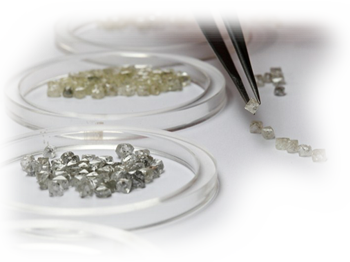 Our assortments are in many key sieve sizes. We can supply any combination of quality, color range or make.
Cut Number
Color
Carat Weight
Shape
Sieve size where applicable
Clarity

This takes great skill and years of training. This is done by diamond sorter specialists. Its a work of an experienced person.